Do it for Daron: Purple Pledge Day – February 8th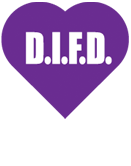 "We are a close family. We spend a lot of time together. We talk about a lot of things; sex, drugs, alcohol, bullying and the internet. But there was one conversation we never had. Mental health. Suicide. We pray and hope that you have that conversation yourself, or with a friend or family member." Luke Richardson
Inspiring conversations – raising awareness – transforming youth mental health
On November 13th, 2010, Daron Richardson took her own life. She was just 14 years old. Join us in inspiring conversations and showing support not only for Daron Richardson's family, but for all our young people who suffer in silence from the pain and stigma of mental Illness. Register your school or organization and Wear Purple (Daron's favourite colour) on February 8th.
We know that 'not talking about it isn't working'. I want everyone to join the Richardson Family in wearing purple on February 8th, think about Daron and remember your loved ones and friends that you have lost to suicide. I then need you to make a commitment to continue the dialogue on suicide.
Do It For Daron because Not Talking About It Isn't Working.
Please leave your comments to let us know how you will continue the dialogue.